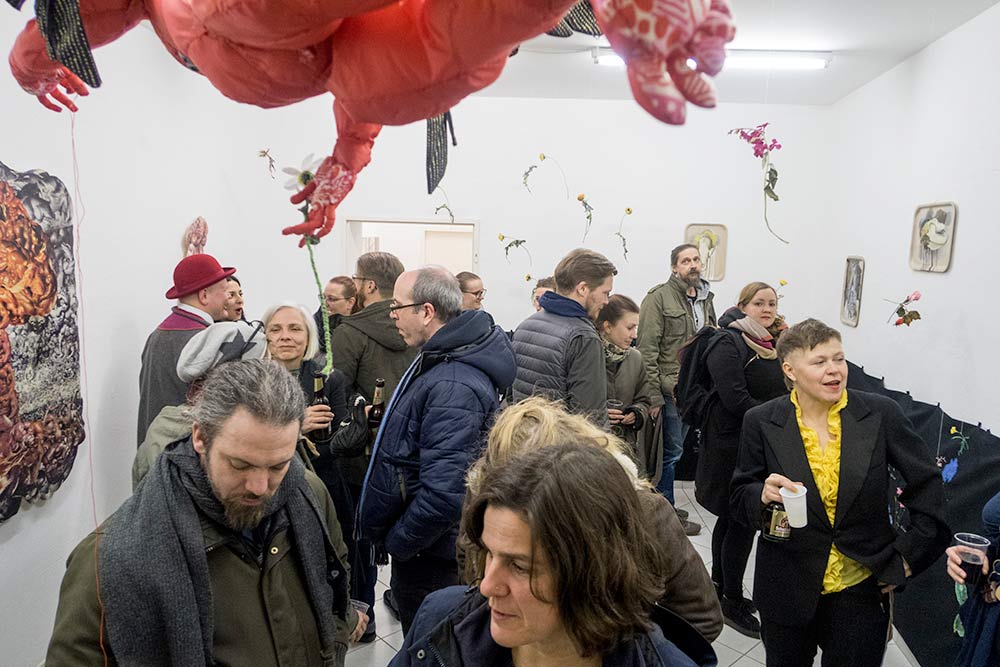 About Kolonie Wedding
Dr. Anna E. Wilkens

Art in Berlin
Berlin is seen to be one of the most important centres of contemporary art worldwide. Apart from established venues like museums, communal and commercial galleries (about three or four hundred to date), Berlin has a considerable number of other forms of art presentation and art activism, for example artists' run galleries, temporary art projects, living-room-galleries and project spaces.
Project Spaces
A special role in Berlin's international art scene play the project spaces. The exact number of these is difficult to determine, there may be around two or three hundred at any given time, spread over the entire city. Since 2015, they are organised in the Netzwerk freier Ber-liner Projekträume und initiativen e. V. (Network of Project Spaces and Initiatives in Ber-lin, registered non-profit organisation).
Due to the informal, unbureaucratic and non-profit character of these spaces, they can act spontaneously and to experiment, to maintain networks in Germany and abroad, to trans-cend boundaries of art and ideas, to think outside the box, to invite neighbours, spontane-ously host concerts and different types of events or react directly and immediately to cur-rent issues.
The artworks do not need to be saleable – this allows forms of art that are more or less un-attractive for commercial galleries, like participatory pieces and projects, or works with inbuilt self-destruction – and furthermore the art does not have to be agreeable to a broad audience, which opens the opportunity to try the untried or show more exotic art genres.

Project spaces usually are self-financed by artists and curators; there is no regular govern-mental financial aid.
Discourse and Participation
The project spaces also function as important meeting places within the art scene of Berlin; the art presented is discussed, debates take place, artists and visitors together talk about the exhibited works and about art in general, people tell each other about other exhibitions they have visited and criticise and/or recommend. Artists, curators, connoisseurs, tourists and neighbours alike partake, share opinions and experiences, criticise and conceptualise. This culture of conversation in the independent art scene in Berlin, where everybody is welcome and everyone has the same right to voice their opinions, is of great importance to Berlin's art scene. Its influence expands to far outside of the project spaces themselves. New ideas are created. Today, where there is the constant and ever present lament about the media and the deterioration of 'real' dialogue due to electronic communication devices, in the independent art scene Facebook is used mainly to announce events. The conversation takes place between people who actually meet.
Art as well as discussions in the project spaces constantly engage in fathoming out what contemporary art can be – and what its relevance in society is or could be.
Kolonie Wedding
In 2001 a group of project spaces connected and founded the non-profit organisation Kolonie Wedding (which is named for Berlin's district of Wedding, where it is situated, and from Koloniestraße, the street where its first office was; 'Kolonie' is, incidentally, the German word for colony). Now, in its 19th year, the Kolonie consists of 23 project spaces in the area around Soldiner Straße.
The project spaces simultaneously have a regional focus and an international orientation; they regularly organise events, concerts, performances and exhibitions with a participatory character, inviting their neighbourhoods to take part.
Kolonie Wedding is special in so far as membership and (international) exhibition activities are of an exceptional continuity.
Several of the project spaces focus on specific topics or genres, like for example video art, performance, connections between art and the sciences, politics. Some of the spaces culti-vate regular international art exchanges with, for example, the Balkans, Russia, Austria, Turkey, and Brazil. The Finnish-German art space Toolbox focuses on showing art from the Nordic countries in Berlin.

The probably most unique aspect of the Kolonie Wedding is that the art spaces coordinate their opening dates: on every last Friday of the month the openings take place. It is usually about ten to twelve of the places which have new exhibitions on this Friday. They are all in walking distance from each other, so it is possible to visit all the project spaces on the same evening.
One can, for example, see the slightly bizarre paintings by a Berlin based artist in an art space run by people coming from Poland and Croatia, then visit the Finnish space and see a group show from Finland; go on to the Portuguese member of the Kolonie and see an exhi-bition of video art by a Brazilian artist collective, an experimental installation by New York artists in another space and a cartoon artist from Israel in yet another. As in the project spaces in general, also in the Kolonie the art presented is intensely discussed. It is allowed to think that the presented art is rubbish.
It is my notion that this culture of constant international exchange and debate about art, together with the possibility to experience so many different artistic positions, changes the art itself, so that art in Berlin is different from art elsewhere.

The organisation of the Kolonie association is non-hierarchical, there is no boss.
At any given time, four members of the Kolonie Wedding together are the chair, there is no first chair and vice chair. Decisions are made by consensus. The art spaces all independent-ly plan their own programme; the association fulfils the task of doing mostly administra-tional and organisational work pertaining to all the spaces – for example printing the monthly flyer and maintaining the joined website –, with no influence on the artistic and curatorial decisions of the project spaces.

Maybe the Kolonie itself could, with an extended conception of art, be seen as a Gesamtkunstwerk – one that crosses or even dissolves borders and that is a fertile ground for innovative ideas.